Marijuana Clones and Plants For Sale in San Bernardino
High Desert Clones is happy to offer clones to the San Bernardino area. Offering a large selection of clones and teens to the growers throughout the San Bernardino county. All clones are pest and mold free and delivered directly to the grower or to a convenient location.
Call to secure your plants today! (760) 646-3644
San Bernardino is the largest county in the state and offers a wide range of growers and growing opportunities. At High Desert Clones we go above and beyond to provide a wide range of clones and strains that are perfect for any environment. Exclusively serving the medical marijuana community
Providing top quality clones to medical marijuana growers of all sizes throughout the entire San Bernardino County.
has some of the most educated consumers when it comes to top quality cannabis and we have been able to consistently provide growers of all sizes with exactly what they were looking for. High Desert Clones exclusively serves the medical marijuana community and is always looking to provide plants or clones to growers who are medical marijuana compliant.
Most Popular Clones in San Bernardino County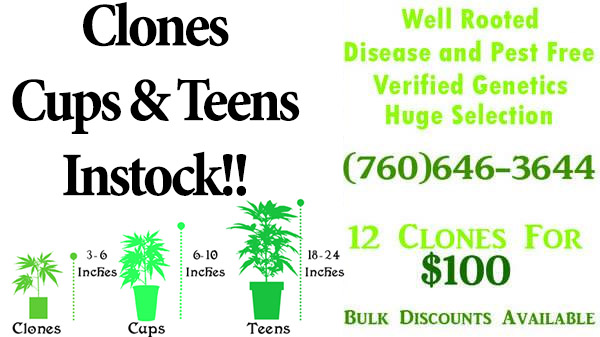 High Desert Clones offers some of the most competitive pricing in the industry, providing top quality clones throughout San Bernardino County for as low as $100 per 12 clones and teens priced based on size and quantity requested. We offer the same prices regardless of strain and that includes even the local favorites.
In San Bernardino County there is a serious love for all things OG, which makes it no surprise that the top strain for the county has been, and will probably always be an OG. Currently the top OG strain for the county is XXX OG. Easy to grow and consistent quality make this strain an easy favorite for indoor growers as well as outdoor growers.
Coming in number two would be Birthday Cake, a strain that simply does amazing indoors. This is one of the few exotic strains that has really taken off in San Bernardino, and has quickly become a local favorite. High yields and amazing color make an amazing combination in this strain.
9 pound hammer is possibly the most popular strain in San Bernardino for outdoor growers. Designed in Northern California with a focus on yield and quality, 9 pound hammer delivers immense high quality flowers.
Grow Something Amazing.
All of the clones and plants sold by High Desert Clones are delivered directly to you or to a location that is convenient to you. We offer only clones that are 100% pest and mold free. High quality, healthy, and strong clones are the primary building blocks of any successful grow. This is one of the reasons that High Desert Clones strives to provide the best possible marijuana clones and plants to growers throughout the county. Even though we strive to provide the best plants possible it is important for all growers to take a moment and inspect all plants upon delivery. If you have any problem with any plants you have acquired though High Desert Clones please let us know as soon as possible.
Why Choose High Desert Clones
We deliver exclusively female clones
All clones have been hardened
Cash on delivery is available
Delivery anywhere in Los Angeles
All clones are 4-8" tall in rock wool
Guaranteed pest and mold free
Bulk Discounts available!