Now that a good portion of the country has made legal the consumption of cannabis either for medical reasons or recreational reasons a lot of cannabis consumers are wondering how to grow their own. The high cost of cannabis coupled with the limited availability of specific strains makes it almost mandatory to grow your own if you are looking for something incredibly specific.
As more and more big money enters the cannabis market we can expect more and more of the same to be produced… and for those of us who have specific tastes we are left to fend for ourselves or consume what has been created for the masses. This is one of the reasons I support the concept and company behind Your Seed Company.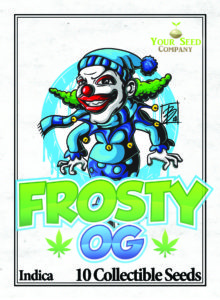 These guys have been a part of the cannabis seen for more than a decade and have used their experience and connections to preserve some of the most unique strains of cannabis available. The preservation of high quality cannabis genetics should be something that is important to all in the industry but right now many of the big producers are more worried about increasing yield while they focus on profits, however Your Seed Company is trying to assist all growers in developing their own seed bank and empowering growers to preserve the genetics that mean the most to them. It is important to remember that the history of cannabis is the history of cannabis culture.
In addition to preserving some of the best cannabis genetics available, Your Seed Company has also developed some amazing strains of their own, one of which we frequently have available. Fuego OG. This is a strain that has produced some amazing results and has quickly become a favorite for those who have had the opportunity to grow it.
The whole collectible card angle is just something that I enjoy, hopefully the company will continue their success and I will be able to collect a few thousand of these!