Marijuana Clones and Plants For Sale in Los Angeles
High Desert Clones is happy to serve the Greater Los Angeles area with top quality clones from some of the most sought after genetics available. Working with patients who are looking to grow for themselves or for their collective members we strive to find the perfect solution for every grower.
Call to secure your plants today! (760) 646-3644
Los Angeles has some of the most educated consumers when it comes to top quality cannabis and we have been able to consistently provide growers of all sizes with exactly what they were looking for. High Desert Clones exclusively serves the medical marijuana community and is always looking to provide plants or clones to growers who are medical marijuana compliant. 
The most popular clones for our Los Angeles growers in 2019
We provide growers with clean healthy clones that are well hardened and ready to grow into something amazing. The most popular clones requested in Los Angeles have consistently been one of three strains.
In the beginning of the year Black Diamond OG was nearly impossible to keep in stock due to the intense demand. Many growers who were experimenting with the cold weather grows were able to create some amazing purple flowers. Many happy growers have switched to water cooling systems to tailor their growing habits to this specific strain due to its high quality and amazing yield.
The second most popular strain so far this year for Los Angeles has been Glue Dream. This is an incredible strain that was created by crossing o of the most popular strains of all time, Blue dream and Gorilla Glue #4. This is a strain that leans heavily on Gorilla Glue #4 for its smell and taste while picking up a bit of sweetness from Blue Dream. Great color and just amazing yields have made this strain a hit all across California for growers who are growing indoors as well as for growers who are growing outdoors. If you like Gorilla Glue #4 but have always thought it should be a bit sweeter and have an overall heavier yield this is the strain for you.
Another hugely popular strain for the Los Angeles area has been Platinum Girl Scout Cookies. This is a strain that more often than not requires that a customer pre order, Platinum Girl Scout Cookies clones are incredibly popular and for good reason. While having the lowest yield of the 3 most popular strains in Los Angeles Platinum Girl Scout Cookies has a quality that is unsurpassed. A strain that is perfect for the connoisseur.
High Desert Clones also offers a Marijuana seeds!
With a number of seed companies having started up over the last few years keeping up on what strains are the most sought after is a full time task for the growers over here at High Desert Clones, but we have found one company that seems to offer a unique fresh approach to the whole market. Combining some of the greatest strains of all time, sourced from all over the world, we have chosen to carry the YourSeedCompany line up. While the line up is always changing and availability is limited we are frequently able to provide growers with exactly what they are looking for… and more often than not Los Angeles growers have been looking for Frosty OG.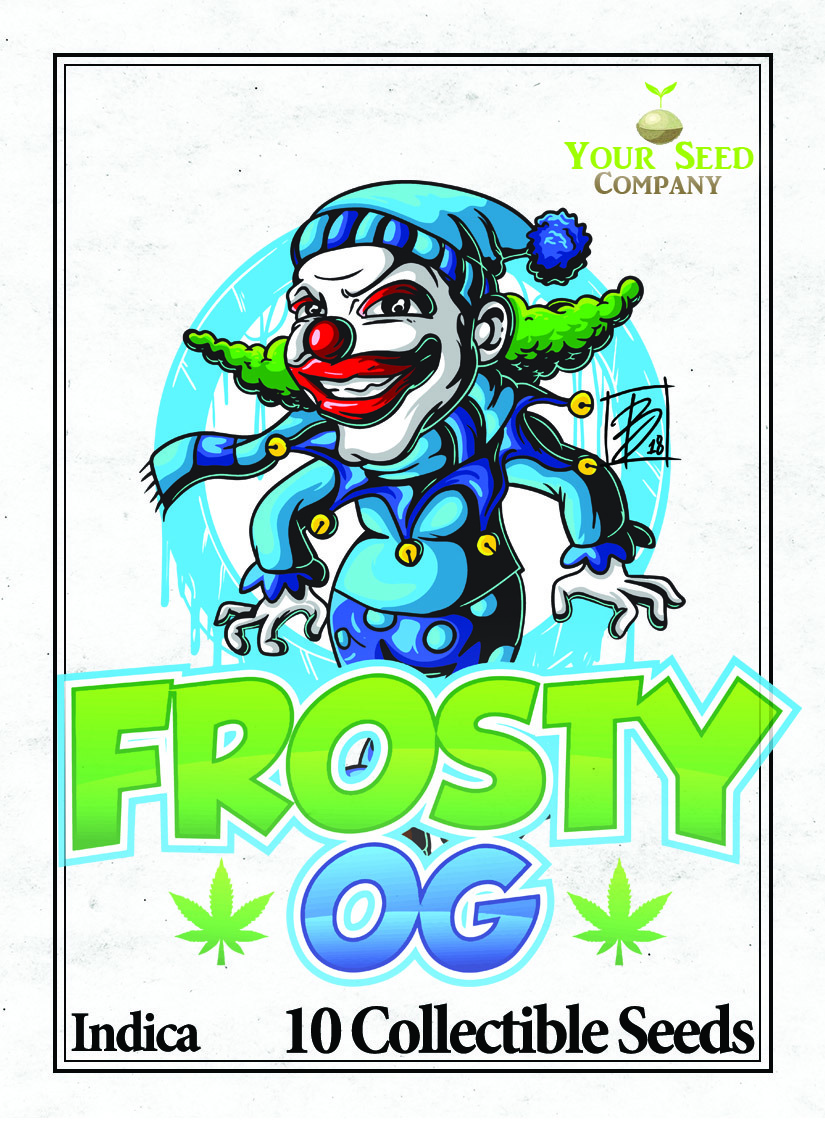 YourSeedCompany seeds are sold in sealed containers with a collectible card as well as a small glass vial containing 10 seeds. Each package retails for $49.99 If you are a grower who likes to start from seed give us a call and let us know what you are looking for.
While we prefer the ease of growing from clones there is definitely something to be said for being able to start from seed and having complete control over the entire growing process.
However, it is important to keep in mind that growing from seed can add 2-4 weeks to your growing schedule as the plant goes from seedling to early juvenile stage. This is one of the big reasons the majority of growers taking advantage of our clones.
Consistency is key.
All of the clones and plants sold by High Desert Clones are delivered directly to you or to a location that is convenient to you. We provide only clones that are clean from any pests or molds, clones that give you the grower the greatest chance to grow something impressive. One of the most important parts of any grow is simply starting with healthy plants, if you start with sub par clones and plants you are more likely to finish with a sub par product. 
Why Choose High Desert Clones
We deliver exclusively female clones

All clones have been hardened

Cash on delivery is available

Delivery anywhere in Los Angeles

All clones are 4-8" tall in rock wool

Guaranteed pest and mold free

Bulk Discounts available!