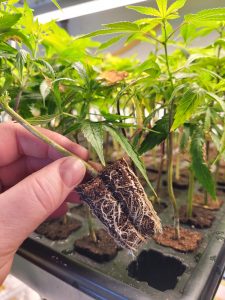 This year, we have a lot of amazing new strains for our customers so they can have diverse and interesting new flavors! Some of those new strains include Hella Jelly (a very fruity Sativa), Garlic Budder (a very high THC Indica), Zainbow (a strong hybrid), Magic Melon (another fruity Sativa), or even Mountaintop Mint (a high THC Hybrid).
We also have some of the classics from previous years, including Di-Si-Dos Cookies (Indica), Gelato OG (Indica), Alien Bubbha (Indica), Purple Punch (Indica), and Girl Scout Crack (Sativa). All of our mother plants are grown in-house and all our clones are produced by us. They have strong roots and are grown under excellent lighting conditions, ready for you to grow into big, healthy plants.
We will also have teens available around the end of May, so contact us if you want to reserve teens!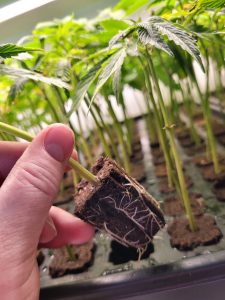 Check out the list of our strains for 2023, some will be available right now, while others will be available later on in the season. Contact us and we will let you know what is currently available and what is coming up!
Get your season off to a great start with some of these fantastic strains! Contact us now and we'llb e happy to help you.