We serve a lot of patients that grow their own medical marijuana, really it's our primary focus… And a few of those patients have let us see their process from start to finish. A lot of patients have asked us how much they can expect to grow from a single plant, and while that is an impossible question to answer we thought we would share a recent grow we observed.
With the outdoor season allowing for natural harvest many growers are taking advantage of the natural light and growing in patios and green houses. We followed the progress of a patient growing a single marijuana plant of our Sour Diesel strain. This is a strain that is typically grow outdoors and can have amazing results.
This particular grower took advantage of a small(ish) green house to grow a single Sour Diesel  plant and tended to the plant for a 2 week veg period. Using fairly standard nutrients and for the most part letting the plant do what it wanted. The Sour Diesel plant was caged with field fence and trained to grow as wide as possible.
The overall outcome was quite impressive for the grower who had never grown before.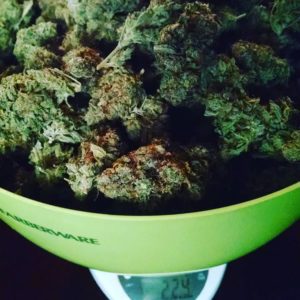 Nearly an ounce grown from the first plant, which was more than enough for this medical patient. Taking clone to finished product in less than 13 weeks was pretty impressive… and only took so long because the Sour Diesel strain is known for having a 10+ week flowering time.
Overall great work to the credit of the grower and quality product to the credit of this quick growing and amazing strain.
How much you will grow from one plant is determined by the strain you choose, the time you allow the plant to veg, and the conditions under which the plant is grown.